Suffrage
---
Although Rhode Island was open and progressive in its stance on religion, its suffrage laws did not always reflect the same openness. Over the course of the state's 300+ year history, various disenfranchised groups have petitioned the General Assembly and the US Congress for the right to vote. These groups include: Jews; Catholics; Native Americans; African Americans; and women.
The most dramatic event related to suffrage in Rhode Island was the Dorr Rebellion of 1842, when the quest for expanded suffrage resulted in the state having two sitting governors and two legislative bodies. While the violence that arose from this unusual situation was quickly quelled, it is a dramatic example of the lengths people will go to in order to have a voice in their government.
You can learn more about suffrage and the Dorr Rebellion from our interactive timeline.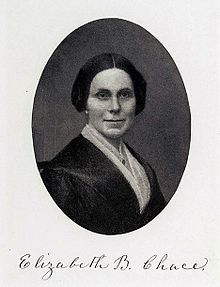 Elizabeth Buffum Chace
---
Primary Source Documents
Click on the thumbnails below to zoom in and explore these documents.
---
---
Discussion Topics and Classroom Activities
4th grade and up
Some laws about voting are federal and others are decided by individual states. What are the rules about who is allowed to vote in Rhode Island today? Make a list of who is eligible and who is not eligible to vote.

Are voting restrictions necessary? Why or why not?
6th grade and up
The right to vote has been restricted on various grounds. Make a list of reasons people have been disenfranchised and denied the right to vote. Try to research when the rule was changed.

People aged 18-30 are the least likely age group to vote, yet they will live longest with the decisions made by their elected officials. Why do you think they don't vote? What could we do to change this?

Some people have suggested lowering the voting age to 16. Do you think this is a good idea? Why or why not?

Choose a section of the Rhode Island Constitution and read it carefully. What surprised you? Anything in that section that you'd like to change? How would you go about changing it?