Who Controls the Colony?
Rhode Island's 1663 Royal Charter outlined a government structure that permitted Rhode Islanders to elect their own governor and representatives in the legislature. This meant that governors in Rhode Island had to serve both the people who elected them and the king of England, who ruled over all of the colonies.
In the months leading up to the attack on the HMS Gaspee, letters between Governor Joseph Wanton and English officials reveal the tension created when the laws imposed by England conflicted with the will of the people in Rhode Island. The investigation that took place after the attack further aggravated this tension, particularly when King George directed investigators to send the accused to England for trial, a violation of their right to be tried on their native soil by a jury of their peers.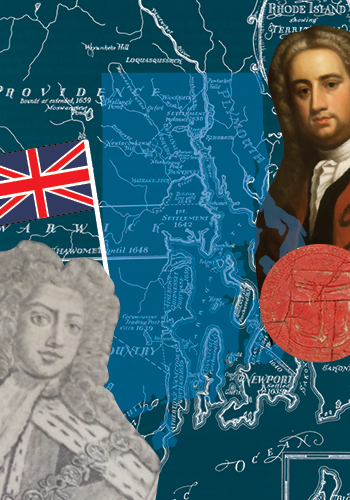 ---
Primary Source Documents
Click on the thumbnails below to zoom in and explore these documents.
---
Letter from Rhode Island Governor Joseph Wanton to Gaspee's Lieutenant Dudingston

"As I know not by what authority you assume this power, I have sent off the high Sheriff, to inform you of the complaint exhibited against you, and expect that you… produce me your commission and instructions…"

Lieutenant Dudingston's response to Governor Wanton

"I have done nothing but what was my duty… As it was ever understood by all his Majesty's governors… every officer commanding one of his Majesty's vessels was properly authorized…"

Letter from Admiral Montagu, commander of the Royal Navy in New England, to Governor Wanton

"...it is your duty as a governor to give him your assistance… I shall report your two insolent letters... to his Majesty's Secretaries of State, and leave them to determine what right you have to demand a sight of all orders I shall give to all officers of my squadron, and I would advise you not to send your Sheriff on board the King's ships again on such ridiculous errands."

Governor Wanton's response to Admiral Montagu

"As to your attempt to point out what was my duty as Governor, please to be informed, that I do not receive instructions for the administration of my government, from the King's admiral stationed in America… As to your advice not to send the Sheriff on board any of your squadron, please to know, that I will send the Sheriff of this Colony at any time, and to any place, within the body of it, as I shall think fit."
---
Questions and activities
To whom did Governor Wanton owe his loyalty, to Rhode Islanders or to King George?

How do you think disputes like this affected colonists' views about England and the king?

Imagine you're a newspaper editor in 1772. Write an article about the Gaspee attack from either the English or the American point of view.

Most Americans know about the Boston Tea Party, but they don't know about the attack on the HMS Gaspee. Why do you think this is?

Was the burning of the Gaspee an act of treason or a patriotic act? Explain your answer.

Can you explain how conflicts like the ones that prompted the attack on the Gaspee led to the American Revolution?