Conflicting Accounts
The investigation into who attacked the HMS Gaspee began the morning of June 10th and continued for about 12 months. Governor Joseph Wanton, Deputy Governor Darius Sessions, Britain's Admiral Montagu, and an investigatory commission appointed by King George himself, took testimonies and received written accounts from men believed to have information about the attack.
Aaron Briggs, a young, indentured servant of African and perhaps Indigenous heritage, provided the most detailed description of the events of June 9th and 10th. However, his account was immediately discredited by Jack and Somerset, two other servants who worked with him, and by his master, Samuel Tompkins. George Brown and James Sabin, owner of the tavern where the attackers were said to have gathered, also gave accounts that differed from Aaron's.
Learn about other key figures in the Gaspee attack and investigation in our Cast of Characters.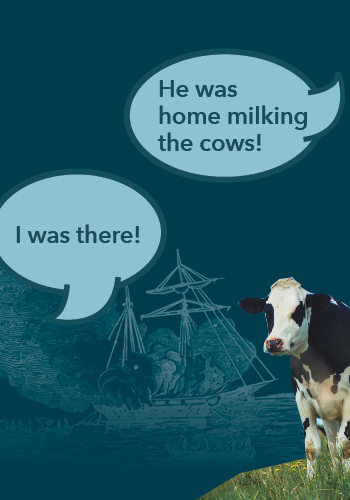 Primary Source Documents
Click on the thumbnails below to zoom in and explore these documents.
---
---
Questions and activities
Read the testimonies and letters and decide who you think was telling the truth. Consider the possible motivations of each of the men involved.
Aaron was the only person who named individuals who participated in the attack. Why do you think no one else did?
What can you infer about the lives of Black and Indigenous indentured servants from the testimonies?  
Aaron's testimony was given after he ran away from Samuel Tompkins. What does this suggest about his life on Prudence Island?  
What is the difference between indenture and enslavement? (Note: sometimes there was little difference between the two for people of African and Indigenous ancestry.)