Notary supplies
All RI notaries are required to have a notary stamp. National best practices strongly encourage the use of a journal when performing notarial acts.
Notary Stamp/Seal
It is required that all notaries public in Rhode Island have a notary stamp. The stamp shall be in round (circular) or rectangular form with an edge border surrounding the required elements of the stamp.
The stamp must include the notary's name exactly as it appears on their commission, the words "NOTARY PUBLIC" and "RHODE ISLAND." The stamp should produce a sharp, legible printed image that reproduces under photographic methods.
A notary's stamp is the exclusive property of the notary and should not be used by any other individual. Every effort should be made to secure and protect the stamp from unauthorized use.
Notary Public stamps may be found at business supply retailers both online and in store.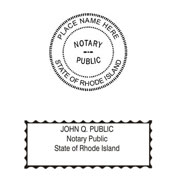 Journal of Notarial Acts
The journal should be a permanently bound book that creates and preserves a chronological record of performed notarial acts.
Rhode Island General Law does not mandate that notaries use a journal of notarial acts. Notaries electing to use a journal should as a matter of good practice, preserve the journal for seven years.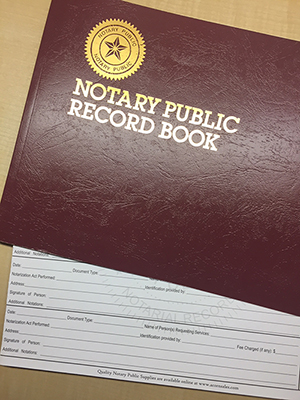 Sample Notarial Certificates
All notarial acts require a notarial certificate except oaths and affirmations. A notarial certificate is legally required wording that is a part of or attached to the document that states the facts attested by the notary during a particular notarial act.
The following notarial acts require notarial certificates:
Learn how to complete a Notarial Certificate in our Notary Public Manual or Notary Public Toolkit.
Notaries public should not affix their official signature or stamp on a notarial certificate that is incomplete.
The sample notarial certificates offered above are not intended to replace or supersede the existing forms commonly used in conveyances of real estate or other legal documents within the State of Rhode Island, and in particular, those forms of certificates for notarial acts approved by any committee of the Rhode Island Bar Association.
A notary public is not required to use these notarial certificates if another certificate is printed on the form and it:
Contains express prohibition against altering the form; or
There is a notary certificate from another state and the document will be recorded in and governed by the laws of that state.