Treasures from the Archives:
Rhode Island and the U.S. Constitution
Did you know that Rhode Island was the last of the original thirteen states to ratify the U.S. Constitution?
The original U.S. Constitution did not explicitly protect speech and religion, two freedoms that were fundamental to Rhode Islanders and protected in our Royal Charter of 1663.
Other issues contributed to their initial resistance including an overriding concern that the U.S. Constitution gave too much power to the central government at the expense of the states.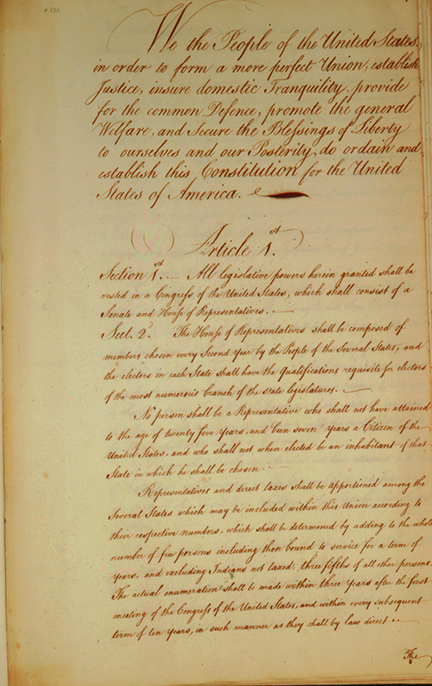 September 1787
The U.S. Constitution is completed and sent to the thirteen original states for ratification with a provision that it will become effective when approved by nine states.
March 1788
Rhode Island is the only state to hold a popular vote on the ratification of the U.S. Constitution. Instead of holding a convention, the General Assembly refers the question to individual towns. Town meetings are held, votes are counted and the result is a resounding defeat with 2,711 votes against the U.S. Constitution and only 239 in support of it.
June 1788
New Hampshire becomes the ninth state to ratify the U.S. Constitution.
March 1789
The U.S. Constitution becomes the governing document for the United States of America.
May 1790
Faced with mounting pressure from the ratifying states, and Providence, Newport and Bristol's threats to secede from Rhode Island and join the Union on their own, the General Assembly holds a Constitutional Convention and ratifies the U.S. Constitution by a vote of 34 to 32. The ratification report to Congress includes a multi-page list of recommendations and proposed amendments, many of which are incorporated into the Bill of Rights.